At Cartmell Buildings, we understand that the care and comfort of your horse is of paramount importance. That is why our equestrian buildings are designed and manufactured with your horse's welfare and wellbeing in the forefront of our mind.
We make sure that our buildings are highly weather resistant and completed to the highest standard possible in order to guarantee you have a happy horse throughout the winter months. We pay particular attention to air flow, ensuring that optimum ventilation is in place for your horse. What is more, our wide range of stable sizes and specifications plus our experience allows us to tailor our buildings to your budget and needs.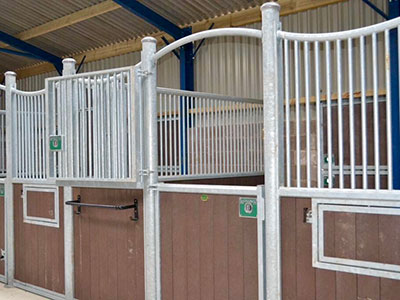 Furthermore, at Cartmell we also offer high quality indoor riding arenas, ensuring you and your horse can get the most out of training.
Our workforce operates all over the United Kingdom constructing high quality equestrian buildings, so if you are looking to get started on designing the perfect home for your horses, why not contact us today. From the initial design consultation to the completed stables that you can be proud of, our team of experts are here to help you each and every step of the way.
So, if you are looking for a new equestrian building or to replace any existing equestrian building why not use our quote builder or for general enquiries, use the form on this page.