At Cartmell Buildings, we have the in-house capability to complete projects of all shapes, sizes and specifications. Whether you are looking for a grain store, a livestock building, a general-purpose building, a silage clamp or even an extension to an existing farm building, no project is considered too large, too small or too out of the ordinary.
At Cartmell, our structures are made with the best quality structural steel and are manufactured and fabricated with strict quality control.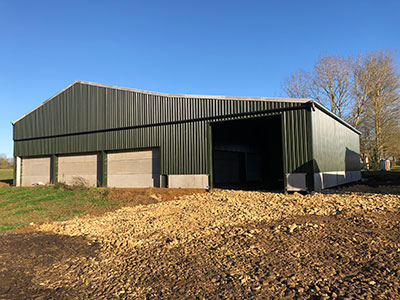 A key advantage to using our internally manufactured steel portal frames is that they allow the rapid assembly of your agricultural building right from the get-go. With Cartmell Buildings, you can be sure you will receive true value for money without compromising on the quality. We work exclusively with high quality British suppliers, thereby allowing for bespoke materials throughout your project. From concrete panels, to cladding and roof materials, every element of your proposed agricultural building is customisable. This ensures you get a fit and finish you can be truly proud of.
Whilst our comprehensive turnkey solution remains ever popular, we also work with clients to supply farm kit buildings right across the United Kingdom.
If you are looking to start your journey to an agricultural building you can be proud of today, why not get in touch for a free no obligation quote from one of our estimators. From the preliminary design of your farm building right the way through to the final sign off, our specialised team are here to bring your design ideas to life and answer any questions you may have. To obtain a quote today, simply click here to use our quote estimator or alternatively send us an email on sales@cartmellbuildings.co.uk.